GENERAL INFORMATION OF VINHOMES CENTRAL PARK
Vinhomes Central Park, also known as Vinhomes Tan Cang, is the key project of Vingroup in HCM City. The project was inspired by the world famous Central Park - New York, with the outlook towards the most prestigious and perfect complex in Vietnam. Following Vingroup's great success of the project from the North (Vinhomes Riverside, Royal City, Times City ...), Vinhomes Central Park urban promises to be one of the modern urban area and superlative class in Vietnam.
Being built with design of modern combined with ecological urban areas, Vinhomes Central Park brings a new lifestyle for the whole residents of the South. Apartments and villas Vinhomes Tan Cang will be a destination to bring the most satisfaction to customers.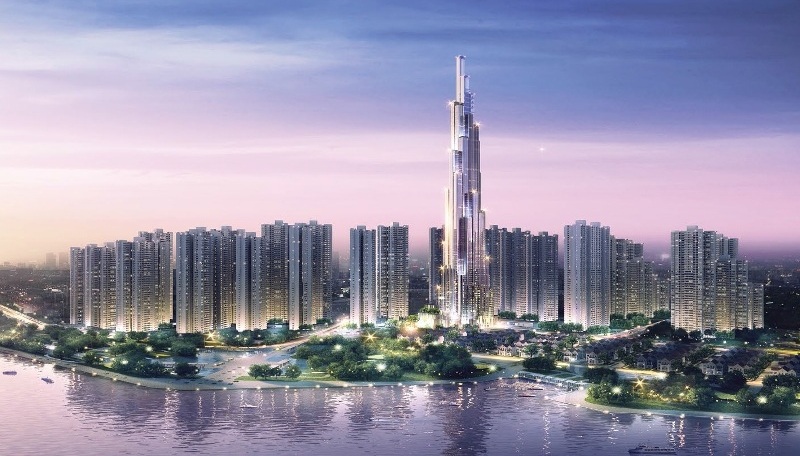 I. LOCATION
Vinhomes Central Park located at Tan Cang, Ward 22, Binh Thanh District, Ho Chi Minh City. The highlight of the project is prime location which is on the banks of Saigon River, closed to the financial center in district 1. Vinhomes Tan Cang position is favorable for both road and waterway. From this, residents can easily connect to every important area in HCM City, only 2 minutes to Metro Ben Thanh - Suoi Tien, 3 minutes to the Thu Thiem new urban area, 4 minutes to downtown District 1.
Vinhomes Central Park urban has frontage stretching along the banks of the Saigon River. It will form a complex of villas and apartment buildings surrounding the Saigon River.
- To the East: Saigon River, District 2, Diamond Island, Phu My Bridge, Vista, Cantavil.
- To the West: Nguyen Huu Canh street, The Mannor, Van Thanh Tourism Area, Bitexco Building.
- To the South: the Saigon River (east - south), adjacent to the Saigon Pearl, view Thu Thiem Bridge, Nha Rong Wharf.
- To the north: Saigon Bridge, Thao Dien Pearl, Hoang Anh Gia Lai Riverview, Binh Thanh District.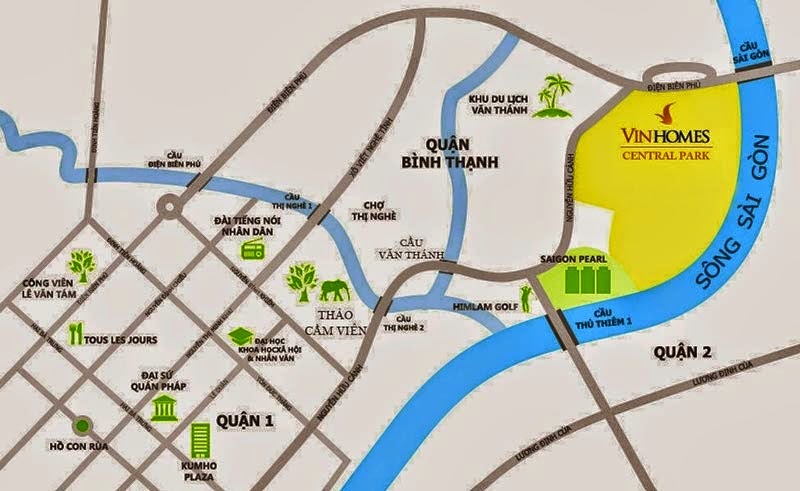 III. OVERVIEW
- Commencement day: July 26, 2014
- Total capital: 30,000 billion VND
- Total area: 43.91 ha
- Construction density: About 16 %
- Green field area: 13.8 ha
- Development plan: 18 apartment buildings, in which Landmark set the highest record in Vietnam with 81 stories.
- Number of apartments: 10,000 accommodated apartments and officetel (from 1 – 4 bedrooms)/ Duplex/ Penthouse
- Number of villas: 96 detached and semi-detached villas
- Vincom Commercial Center 59,000 sqm
- Multilevel international school, clinic, shophouses…
III. ACCOMODATED ITEMS IN VINHOMES CENTRAL PARK
Vinhomes Central Park includes 19 apartment buildings including C1 - C3 (Central Towers), P1- P7 (The Park), L1-L6 (Landmark), Landmark Plus and Landmark 81 with 10,000 apartments and officetel and 96 villas.
The highlight of apartment buildings is Land Mark Building with 81-storey height. It sets the highest record in Vietnam.
Apartments for rent in Vinhomes Central Park is designed in modern architecture, with various areas which can satisfy different demands of customers:
1. Apartments
-1 bedroom: 45-53 sqm
- 2 bedrooms: 76-91 sqm
- 3 bedrooms: 114-127 sqm
- 4 bedrooms: 150-160 sqm
- Penthouse-Duplex: 150-400 sqm
2. Villas
Vinhomes Central Park villas for rent has style of neoclassical architecture. Charming beveled roof, large windows, each line is calculated to ensure standards of high art, good air ventilation and filled with light.
96 villas are constructed under area of 43 ha, construction density of 23%. Green space (density of 32%) intersperses with villas to bring fresh air for residents.
Each unit includes 3 – 6 bedrooms in various areas: 223sqm – 267sqm – 300sqm – 500 sqm – 700 sqm
IV. AMENITIES
1. Green park of 14ha
With area of 38000 m2, green areas are interspersed between apartment buildings and villas to create green and fresh space for the whole project.
2. International hospital Vinmec
With a team of highly specialized doctors and nurses, superior equipment and standardized services, Vinmec Saigon is expected to become a professional health care in Saigon
3. Kindergarten Vinschool
With an area of 22,500 m2, Vinschool offers Vietnamese students an advanced curriculum, with qualified and enthusiastic teaching staffs as well as modern facilities for mental, physical and spiritual development
4. Platinum Cineplex Cinema
With nearly 5,400 m2 area, 11 rooms and 2,100 seats, Platinum Cineplex will become the most modern cinema in Vietnam and in the region. The 2D and 3D room of the cinema is equipped with the most advanced sound system, large screen, and the superior devices.
5. Indoor Vinpearl Ice Rink
First appearing in Ho Chi Minh City, Vinpearl Ice- Rink is the first and largest indoor ice rink in Saigon with a total area of 3,000m2. Indoor skating floors are frozen completely from natural water with 100mm thick.
6. Other facilities
- High-end marina on the Saigon River
- Intelligent car parking
- Lobby
- Outdoor swimming pool
- Outdoor sports center (mini football fields, tennis courts, basketball courts…)
- Gym, spa, sauna....
- 24/7 security system…